It was reported that the Principal of Government Technical College, Abak, Akwa Ibom State identified as Mr Friday Udoaka, flogged a Corps member serving in the school.
The female corper, Olaitan Adeola Kolawolewa allegedly wrote the name of her friend in the attendance register when she was absent. Following the act, the Principal reportedly got angry, flogged and drag her outside his office in front of her students.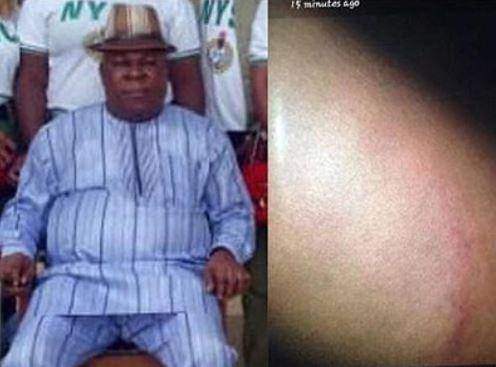 However, the Principal reportedly apologized yesterday at the NYSC state office. He accepted the blame saying, he did not flog her deliberately, that he has been like a father to everyone. He further said he felt bad for hitting a lady but he did not drag the corper out of his office and flogged her before the students like they claimed. He has accepted to bear the cost of her treatment.
The corper in question accepted his apology, says she she will talk to her parents to bring down the case. The Commissioner for Education, Victor Inoka, who was present at the meeting, reportedly made a personal donation of N50,000 to the corper for further treatment.